Quarantine System
A quarantine system is used for the prevention of fish disease getting into a display and the conditioning of newly acquired animals. Fish that go through the wholesale chain are rarely if ever, fed. Typically the first food fish receive is at the retail store. Many of these fish are emaciated when they reach the retail store. Emaciated fish have weak immune systems, and scientific studies have shown they are more susceptible to damage from toxic ammonia and chronic health issues due to exposure.
It is common for fish and plants to pick up diseases while going through the wholesale chain. Parasites are known to hitchhike on plants and can be a source of introduction to hobbyists' systems. Many fish diseases cannot be observed without a microscope.
Many fish diseases are treated with chemicals that can be hard on plants. A quarantine system can help prevent having to treat a display and save on costs for medication.
All new fish and plants should be quarantined for a minimum of three weeks. Anytime a disease is detected and treated, the quarantine clock starts after treatment.
Gill flukes (Dactylogyrus spp.) and skin flukes (Gyrodactylus spp.) are common on fish that go through the wholesale chain. They often only cause noticeable stress to adult fish once their numbers become very high, but they can be deadly to fry.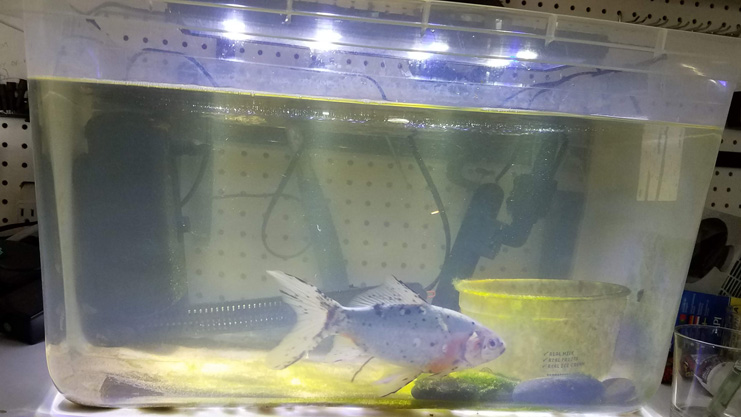 Some diseases like flukes and internal parasites can go undetected while in quarantine. Therefore, it is best to treat all new fish proactively with praziquantel, heat, and sodium chloride if they are salt tolerant. Heat, salt, and other medications can lower the oxygen-carrying capacity of water; all quarantine systems should have strong surface agitation. Carbon and other organic removal resins can remove medications from the solution and should not be used in quarantine systems. Ultraviolet sterilizers should not be used in quarantine systems as they can quickly degrade the effectiveness of medications. Many medications are photosensitive and are most effective when the light on the system is off.
Praziquantel is a very safe and effective anti-parasitic medication. Praziquantel is plant-safe. Multiple companies market praziquantel medications for aquatic systems. Because gill flukes are egg layers, multiple treatments are often necessary to eradicate the parasite. Medication often does not kill the eggs of gill flukes. Two treatments should be done 3 to 6 days apart to kill gill flukes.
A temperature of 88 to 90°F (31 to 32°C) will help eradicate some internal parasites. Plants are very tolerant of high temperatures.
When treating with salt, the specific gravity measured with a standard marine aquarium hydrometer should be between 1.005 and 1.009 or 7 to 13 ppt. To achieve this level of salt, you will need to add 1 to 2 tablespoons per gallon (4 L) of water. This salt level is known to kill many freshwater fish diseases. Fish should be kept at this salt level for three weeks at 85°F (30°C). Keep the salinity below 8 ppt (parts per thousand) (Specific Gravity 1.006) for freshwater nitrifying bacteria. The salt concentration used for treating fish is not safe for aquarium plants. Salt does not evaporate and must be removed with water changes once treatment has been completed.
There are several common viral fish diseases in the hobby. Many viral fish diseases can cause devastating losses. Most viral diseases are species-specific or only infect closely related species. Unfortunately, these viral diseases do not have any cure. If a fish is lucky enough to survive a viral infection, it becomes a disease carrier and will infect all nieve (never been exposed) fish it shares water with. If you have discus (Symphysodon spp.), angelfish (Pterophyllum spp.), goldfish (Carassius auratus), or koi (Cyprinus rubrofuscus) you should be aware of common viruses in these species and be extra cautious with introducing new fish.
The best way to prevent the accidental introduction of a virus to a display system is by completing a three-week quarantine and introducing a fish of the same species from the display system. Wait three weeks to see if the fish from the display or the new fish show any sign of disease. If there is no sign of disease after three weeks, all fish are ready to be transferred to the display system.