Water Chemistry
Water chemistry plays a significant role in the planted aquarium. Water chemistry affects long-term fish and plant health. Fish and plants have evolved physiologically based on their native water chemistry. Fish kept in the wrong water chemistry have an increased likelihood of organ failure (a common cause of dropsy/bloat). Plants in the wrong water chemistry will often have poor health and growth. Investigating the preferred water chemistry for plants and animals and replicating them in the aquarium will help ensure a thriving planted aquarium ecosystem.

Water chemistry can affect the bacteria responsible for processing fish waste and making it available as nutrients for plants.

Planted aquarium hobbyists often overlook water chemistry when diagnosing plant health issues. Hobbyists often choose to increase or decrease fertilizer or light intensity or duration, which often does not solve the problem. Often it is the water chemistry that needs adjusting to fix plant health and growth issues.

General hardness (GH) and carbonate hardness (KH) are the two primary components of freshwater chemistry. The most popular aquarium test kits (API GH/KH liquid test kits) use degrees of hardness instead of parts per million. One degree of hardness equals 17.86 ppm. GH and KH are sometimes expressed as dGH and dKH. GH is a major element that makes up total dissolved solids (TDS). TDS is most often measured with a handheld digital meter. TDS meters measure in ppm.

The ratio of minerals can also affect fish health. The toxicity of elements in the water is often amplified in soft water. Magnesium without calcium present is toxic[18]. Copper in the presents of zinc is very toxic in soft water.

Freshwater hobbyists should know their source water chemistry. The chemistry of the source water will determine if any minerals need adjusting. Some hobbyists may have water out of the tap that is perfect for the animals and plants they are keeping, but often that is not the case. If you are on a municipal water supply, information on the chemistry of the water they provide to their customers is often posted on their website.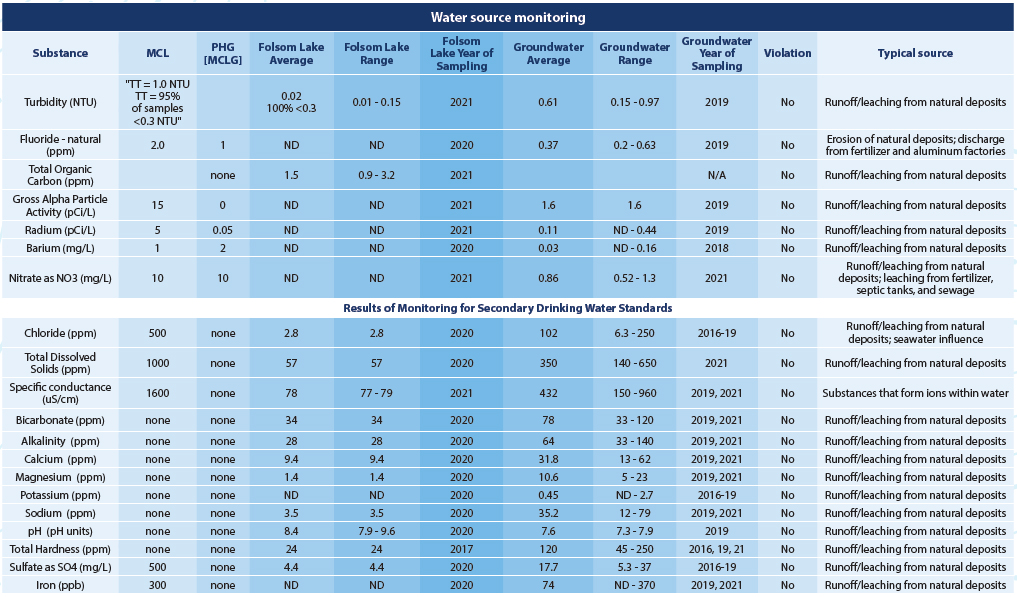 As you can see from the City of Roseville report, the water chemistry can vary depending on the source (Folsom Lake [very low GH, KH, TDS], or groundwater [a.k.a. well water, low GH and KH, but high TDS with a lot more sodium and chloride]). With either source, the alkalinity is low, and without adjusting higher could cause an undesirable pH drop over time, especially in high bioload systems.
If your source water can change drastically throughout the year, checking the TDS is a must before adding minerals.
Tap water with high KH and GH with high carbon dioxide levels can react when exposed to air. The tap water KH and GH can drop as the CO2 is gassed off. The gassing off of CO2 can cause calcium and carbonate to precipitate out of the solution. If this reaction happens within a system, it is possible that it could kill juvenile animals and affect egg hatch rates[19]. If precipitation happens with your source water, collecting the water in a large holding container (plastic trash can) and letting it gas off overnight may be a step the hobbyist should implement before doing water changes.